Welcome to the Australian Consulate-General Chengdu

In Ma La Koala's 39th Edition, engineers from Australia's national science institution CSIRO help develop the world's largest single dish telescope in Guizhou, New Colombo Plan students study Sichuan's 2008 Wenzhou Earthquake and Queensland opens a new trade office in Chengdu. Click here for previous editions.
Savour Australia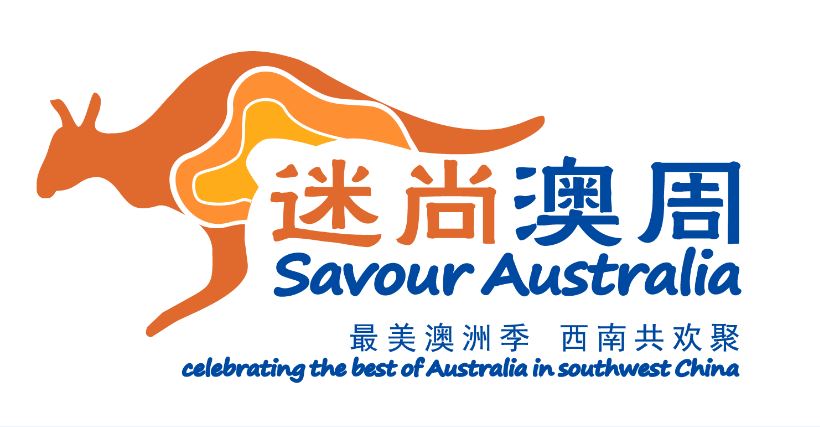 The people of southwest China have the chance to experience the best Australia has to offer as part of an exciting program of events over the next month. Savour Australia will showcase Australia's excellence in fields spanning the performing and visual arts, film, tourism, education, sport, and trade and investment. "This is a celebration of Australian culture, innovation and diversity, which I can't wait to share with the people of southwest China," Nancy Gordon, Australia's Consul-General in Chengdu, said. "No matter how well you think you know Australia, I'm sure you'll discover something new."
The Black Cockatoo Dance Company – performing at our opening events in both Chengdu and Chongqing – will highlight Australia's ancient Indigenous culture with performances that fuse the unique sounds of the didgeridoo with the drums of the Torres Strait Islands.
The month-long program will include a series of exhibitions such as Canning Stock Route that provides a unique window on the desert landscape of Western Australia, the Chungking Legation which tells the story of Australia's first diplomatic mission in China, and Mad.Lab's display on sustainable urban design. The best images from the Consulate's Give it Your Best Shot sister-city photograph competition will also be on display, including the winning entry by Chongqing photographer Luo Xing. Australian artist Lisa Roet will bring her cutting-edge works to Chengdu with an installation on the endangered snub nose monkey at Temple House, one of Chengdu's iconic modern landmarks.
The Australian Innovation Roundtable will see sizzling discussion between Chengdu's and Australia's best and brightest entrepreneurs, in the funky surrounds of co-working space Walnut. Movie fans will be able to enjoy popular Australian films Paper Planes, a story about a young boy's passion for flight, and Red Dog, a tale of man's special bond with animals. Savour Australia will encourage the free flow of ideas on sustainable development and building cultural understanding at forums to be held at Xihua University and Chongqing University. Both will be chaired by visiting Australian academic Professor Greg McCarthy.
Savour Australia events will be open to the public and free to attend. In Chongqing, the events also form part of the 2016 Chongqing and the World Cultural Carnival. "I hope the people of Chengdu and Chongqing grab this opportunity to savour the very best Australia has to offer," Ms Gordon said.
Chongqing program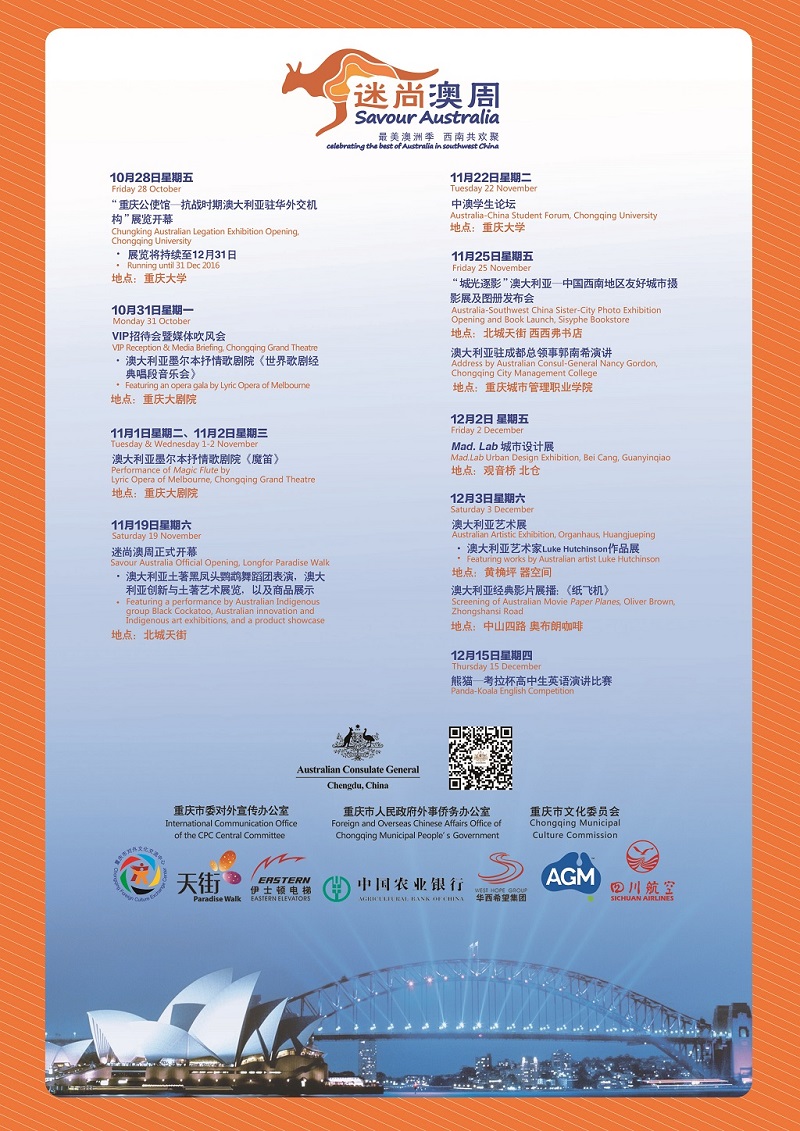 Chengdu program
Appointments for passport and notarial services required from 1 January 2016
From 1 January 2016, the Australian Consulate General Chengdu will be taking appointments for passport and notarial services.
Appointments can be booked via http://acgcd.setmore.com/ .
Passport service appointments for Australian Citizens are available between 9:00 am and 12:00 noon, Monday to Friday.
Notarial service appointments are available between 2:00 pm to 4:00 pm, Tuesday and Friday only. Monday, Wednesday and Thursday are not available.
If you are unable to make an appointment within the advertised hours and have valid reasons, you can either call 028-62685200 or send an email to consulate.chengdu@dfat.gov.au to schedule another appointment.
Please refer to the About Us section in the booking website for instructions on making a booking.
Passport collections, passport enquiries, emergency passports or consular enquiries do not require appointments.
News and Media Releases
Media Release: Promoting Australia's economic links with China (21/3/2016)
Media Release: Australia signs landmark trade agreement with China (17/5/2015)
Media Release: Government to strengthen Australia's foreign investment framework (25/02/2015)
Job Vacancy
Opening Hours
The Consulate-General will be open from 8:30 am to 5:00 pm Monday to Friday except for public holidays.
Passport applications may be lodged between 9:00am to 12:00 pm, Monday to Friday except for statutory holidays. Notarial services will be available between 2:00 pm to 4:00 pm, Tuesday and Friday only. If you are unable to meet these working hours, an appointment is required. You can either call 028-62685200 or send email to consulate.chengdu@dfat.gov.au.
Public Holidays
Public Holidays 2016
1 January (Friday), New Year's Day
8 February (Monday), Chinese New Year
9 February (Tuesday), Chinese New Year
10 February (Wednesday), Chinese New Year
25 March (Friday), Good Friday
28 March (Monday), Easter Monday
2 May (Monday), Labour Day
9 June (Thursday), Dragon Boat Festival
3 October (Monday), National Day
4 October (Tuesday), Golden Week
5 October (Wednesday), Golden Week
26 December (Monday), Boxing Day
27 December (Tuesday), Christmas Day
28 December (Wednesday), Additional Holiday
Public Holidays 2017
2 January (Monday), New Year's Day (in lieu)
30 January (Monday), Chinese New Year
31 January (Tuesday), Chinese New Year
1 February (Wednesday), Chinese New Year
14 April (Friday), Good Friday
17 April (Monday), Easter Monday
1 May (Monday), Labour Day
30 May (Tuesday), Dragon Boat Festival
2 October (Monday), National Day Holiday (in lieu)
3 October (Tuesday), Golden Week
4 October (Wednesday), Golden Week
25 December (Monday), Christmas Day
26 December (Tuesday), Boxing Day
29 December (Friday), Additional Holiday