Updated Travel Advice and Temporary Restrictions Relating to COVID-19
Direct flights between China and Australia are limited. You may be permitted to enter China with a valid Chinese residence permit. If despite our advice you travel to China, you'll be required to provide negative COVID-19 test results prior to flying. There are multiple tests required within tight timeframes. Testing requirements may change at short notice. Australians who have been vaccinated with a COVID-19 vaccine produced in China and who meet other eligibility requirements should contact the nearest Chinese embassy/consulate to confirm visa eligibility and other travel requirements (see 'Travel'). You'll be requested to undertake at least 14 days mandatory quarantine at a designated hotel or facility on arrival followed by additional COVID-19 prevention measures and testing determined by local authorities at your entry point and final destination in China. Measures may include an additional period of home quarantine. If you're already in China, and wish to return to Australia, we recommend you do so as soon as possible by commercial means.

As previously advised, authorities have detained foreigners on grounds of 'endangering national security'. Australians may be at risk of arbitrary detention.
We continue to advise:
Do not travel to China due to the health risks from the COVID-19 pandemic and the significant disruptions to global travel.
Australia's Border Restrictions
From 11:59pm Saturday 28 March, all international travellers arriving in Australia regardless of nationality or point of departure must complete self-isolation for 14 days in designated facilities before they can go home.
Travel Advice Link
For the latest China-related travel advice, please access the Smartraveller website via link below:
https//www.smartraveller.gov.au/destinations/asia/china
Emergency Support
For emergency passport or consular support, please contact the numbers below.
+61 2 6261 3305 from overseas
1300 555 135 (within Australia)
+61 421 269 080 using SMS
Latest News
"Home in Chengdu – Let's Play Sports"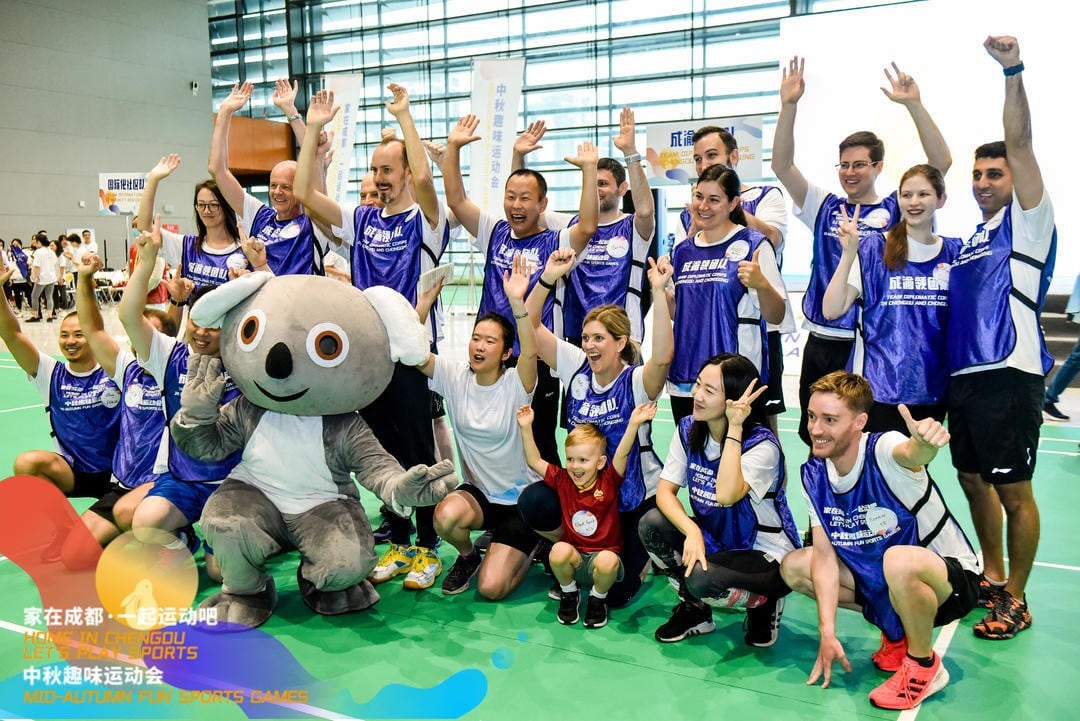 On 15 September, the Australian Consulate-General and the Chengdu Foreign Affairs Office co-hosted a family fun sports day for the international community in Chengdu. More
News and Media Releases
Australia-China Business Council networking day speech (26/06/2019)
Asialink Bloomberg Address by Prime Minister Scott Morrison (26/06/2019)
Australia's experience in applying a circular economy (02/06/2019)
Celebrate a Festival of Australia (20/05/2019)
Secretary Frances Adamson remarks at Australia-China Reception (25/05/2019)
Strengthening science ties with China (10/04/2019)
2019-20 Foreign Affairs and Trade Department budget (02/05/2019)
Ambassador to China (29/03/2019)
Strengthening the future of the Australia-China relationship (29/03/2019)
The Australia-China "She Inspires Me" Photo Competition (08/03/2019)
Appointments for Passport and Notarial Services
Please make appointments for passport and notarial services using the Consulate's online booking system. Passport service appointments for Australian Citizens are available between 9:00 am and 12:00 noon, Monday to Friday. Notarial service appointments are available between 2:00 pm to 3:30 pm, Tuesday, Wednesday and Thursday only.
If you are unable to make an appointment within the advertised hours, you can either call 028 - 6268 5200 or send an email to [email protected] to schedule an appointment. Passport enquiries, emergency passports or consular enquiries do not require appointments. Click here to make a booking.
Booking Policy
Clients should arrive 5 minutes prior to appointments for security screening. If you arrive late for your appointment you may need to wait until an officer is available. Bookings can be made 3 weeks in advance. We request that you do not book more than one appointment at a time. Please refer to your notification email if you need to amend or cancel your appointment.
Notice of New Digital Assistant Online Chat for Visa and Citizenship Enquiries
The Department of Home Affairs (HA) are trialling a Digital Assistant to answer your visa and citizenship questions. The Digital Assistant will make it easier and faster for you to find what you need on their website. You can access the Digital Assistant from the Digital Assistant tab on the bottom right hand side of the screen on most Immigration and Citizenship pages.
Job Vacancy