The Art of the Chinese Banquet
23 November 2017

Doing business in China will most likely involve being invited by your local host to a Chinese banquet in a private room of an upscale restaurant. Australians generally prefer casual dining with a couple of close friends in neighbourhood restaurants. So the prospect of a Chinese banquet in lavish surrounds, with multiple exotic courses and unfamiliar people speaking only Mandarin around a large round table, can be unnerving.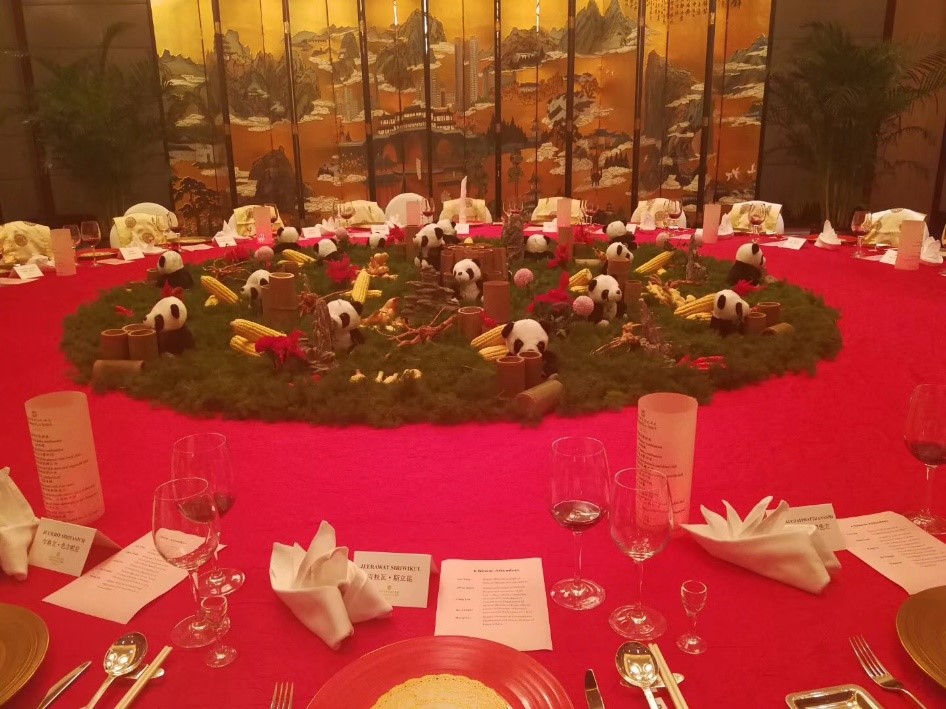 The classic Chinese banquet table

At first, I found Chinese banquets to be outside my comfort zone, especially when I was the principal guest. Although it was an honour to be invited, I was mainly uneasy about the banquet's formality. I was concerned I might offend my host by inadvertently breaking protocol and ritual. I might also feel my host shouldn't go through all this trouble for me.

But through experience and understanding the unwritten rules and practice, I found ways to avoid awkwardness and be comfortable with the occasion. Providing hospitality is part and parcel of building relationships in business and government, and an important way the Chinese host indicates that they value their guests.

Unusually, the first bit of awkwardness is where you sit on the round table. Where it is an occasion hosted by a Chinese government department, the seating arrangement is usually determined by protocol, so you only need to find your name on the place card. If the occasion is less formal, your host will suggest where you should sit. It's best not to sit together with other members of your party, but to spread out so that you'll have an opportunity to interact with Chinese attendees. More often than not there are even numbers between Chinese and foreign guests, but this isn't always the case.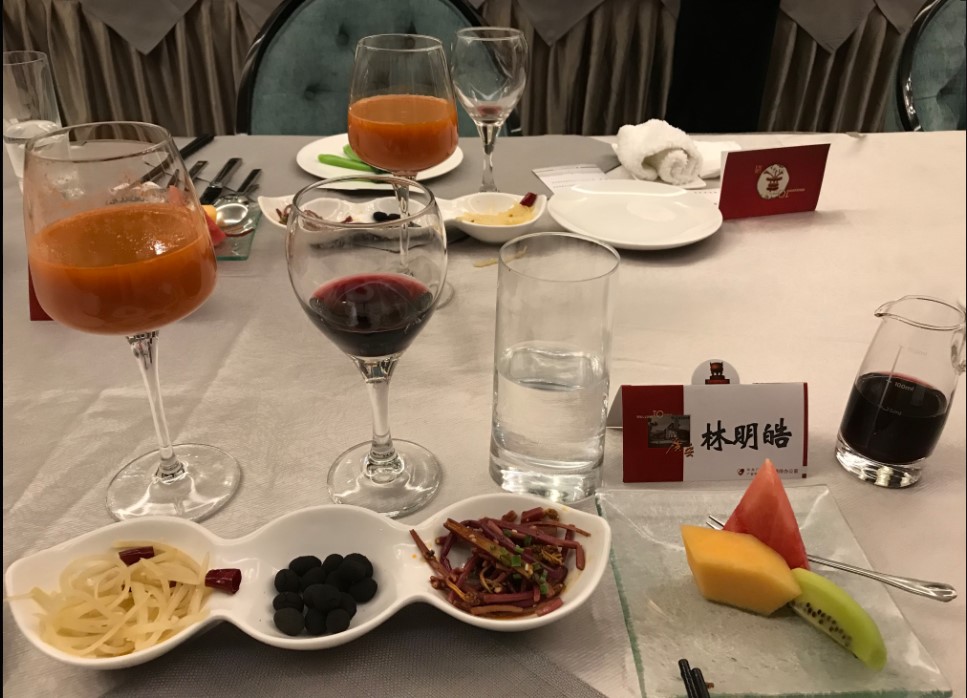 It's not uncommon for juices to be served in a wineglass

Naturally, the language barrier is a major point of awkwardness. There should be someone who interprets, often a member of your team, although a professional interpreter is sometimes used. When you speak, allow time for the interpreter to catch up in Mandarin. This might break the flow of your thinking, but it's important to get used to the process. While many Chinese people have a level of English language ability, they can often be reluctant to use it.

The banquet begins with the host standing up to give welcome remarks – which should be interpreted – and then offering a toast. They will bring their glass of red wine to yours. If you are the principal guest, it is polite to stand up to clink your glass against your host's.

When you clink, your Chinese host (and others around the table) may do so with their glass lower than yours in order to indicate their respect. This is particularly so if they regard you to be more senior, whether it be in terms of position, age, or other considerations. I normally go along with this – it is too complex to try to buck convention.

Then, you drink up – all of it. This is called ganbei, ie, bottoms up. Typically, there's only a small amount of red wine, so you can do so. You then hold up the glass to show that it is empty. You can return a toast then or later but this is not necessary.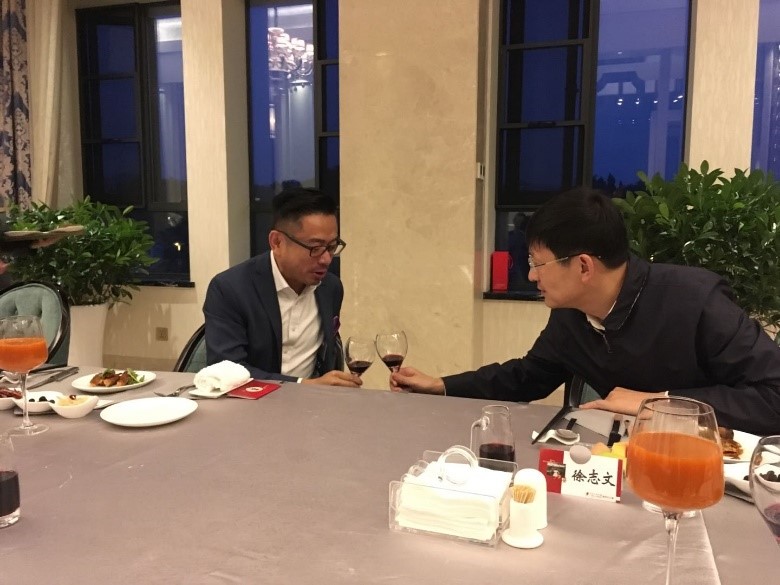 Consul-General Christopher Lim shows respect to his hosts

In Australia, we would take sips of wine throughout the meal. Red wine tends to be the norm now. But the practice in China is to ganbei during the many toasts during the banquet. Drinking is a way to connect rather than as an accompaniment to the food.

A clear Chinese spirit made mainly from sorghum, baijiu, has been the major social lubricant for centuries. But you can breath a sigh of relief that the practice of Chinese hosts egging you to scull shot glasses of baijiu is receding, especially in government-hosted banquets.

I recoil with horror when I hear some people say they surreptitiously pour away baijiu into a water glass, bowl or even pot plants. This is always noticed by the Chinese hosts and regarded poorly. The best option if you don't like baijiu is to stand firm from the start and say that you can't have it. Saying that you'll try a little bit unfortunately leads to a slippery slope that ends up with you downing many more glasses than you can imagine. So I don't start.

You can toast with water, soft drink or tea if you don't drink. In my experience, the Chinese only use sparkling wine to toast at national days or signing ceremonies.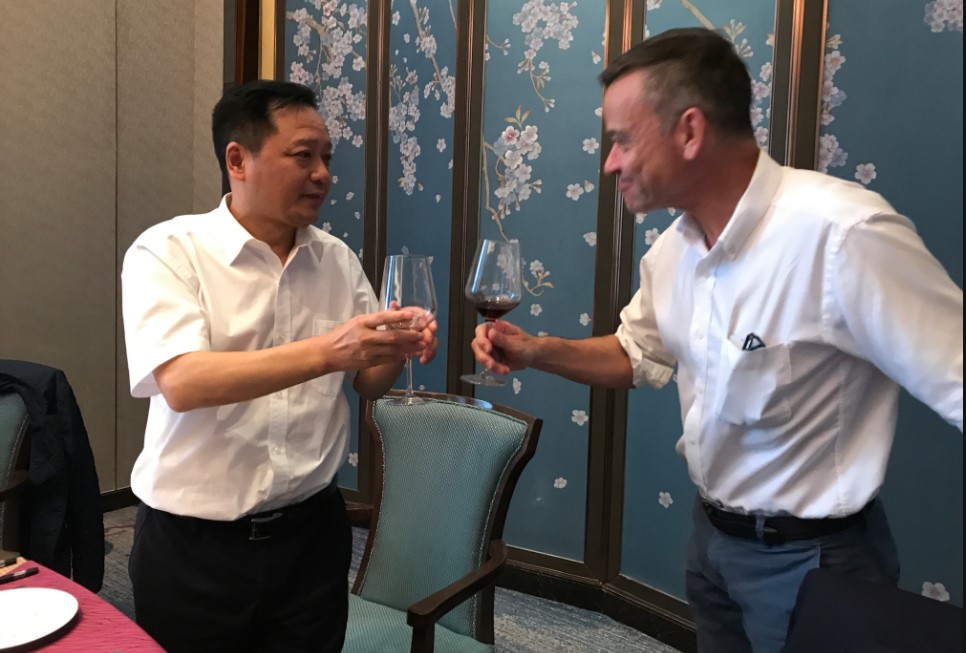 Offering a toast is a nice way to connect individually at a banquet

The impressive course that is bound to come your way at a banquet is often a discovery of local delicacies and the restaurants' rendition of well-known dishes. Your hosts will be keen to know if you like the food. As food and eating are a rich part of Chinese culture, showing interest goes a long way.

Sitting next to your Chinese hosts, you will have the opportunity to have (or continue) your business discussions. The banquet can be a less formal way to raise more difficult or sensitive topics, especially after everyone has had a few courses or toasts.

But whereas people generally don't get up during lunches or dinners in Australia, the situation is more dynamic in a Chinese banquet. Chinese delegation members will come to you to offer you toasts (sometimes while you have a mouthful of food). The custom is to stand up, listen to their toast – usually expressing gratitude for your presence and a desire to work together – clink glasses, and ganbei. It is often sufficient for you to say thank you and that you look forward to further cooperation. This ritual will only take a short while and you can return to your meal. As a nice gesture, you could fill your host's and your glasses with wine to the same small amount from a little decanter or jug normally on your table setting. This step isn't widely understood in the West but will be appreciated by the person offering you a toast.

Don't miss an opportunity to top up your host's glass

This is networking Chinese style, not just with foreign guests, but also among Chinese attendees themselves. Hence, you'll see Chinese delegates toasting each other and making contact. Often, it's a rare opportunity for a junior or mid-ranking staff member to meet the head of a unit in a company or government. So, it's perfectly normal for the Chinese delegates to talk amongst themselves as you continue your meal.
The fruit platter following the savoury courses signals that the banquet is drawing to a close. Your host will make another toast with concluding remarks.

The purpose of the banquet is usually to allow the host to indicate their desire to solidify bonds of friendship over good food and wine. Understanding this makes me much more comfortable to accept the host's kind hospitality and their indication of deepening our relationship. Ganbei!
Click here to return to Australian Consul-General's Blog on Southwest China