An Australian Legacy in Chongqing
1 September 2017
Amid the headlines of Chongqing as the world's largest metropolis (30 million), impressive economic growth (10.5 percent in the first half of 2017) and ensuing business opportunities for Australians, there is a little known piece of Australian history that is carefully preserved.
Off the tourist beaten track in an inner city park called Eling (Goose Ridge) Park is a humble two-storey building that you could easily miss. The city parks administration building appears unremarkable, except for a small plaque with the Australian crest on the stone arch gate that says the building once housed Australia's first diplomatic mission to China.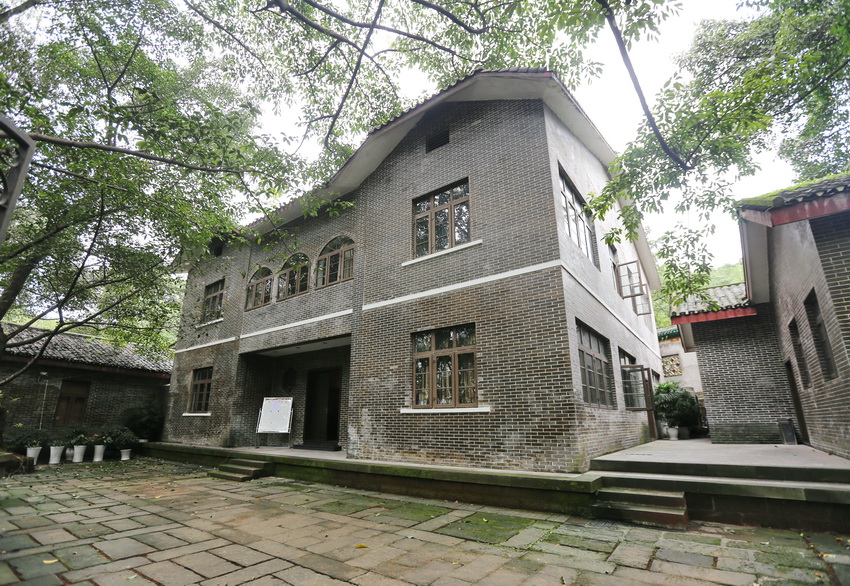 A green haven in the busting megalopolis of modern Chongqing
From 1941 to 1946, the Australian Legation, as it was then called, represented the Australian Government in wartime China. It was Australia's third overseas diplomatic post, after Washington and Tokyo. It wasn't called an embassy as we had just started to forge our own foreign policy distinct from the UK. Australia and China exchanged senior diplomats with less than ambassadorial status. Hence, the mission was termed a Legation rather than an Embassy. However, the work of the Legation – to foster good bilateral relations and keep Canberra informed of developments – was similar to modern embassies.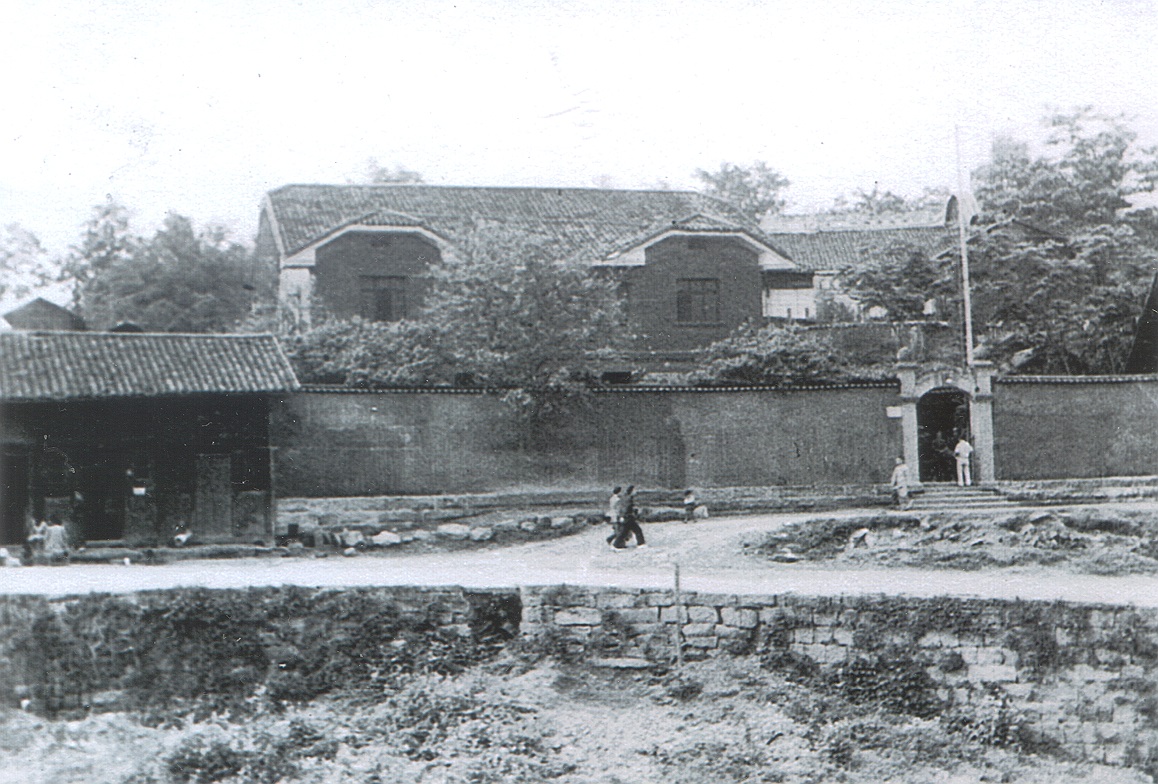 The Australian Legation, 1942. Credit: Chongqing Foreign Affairs Office
Twenty two Australians were known to have rotated through the Legation during its lifetime, on postings ranging from less than one year to five. They relied heavily on 17 local Chinese staff.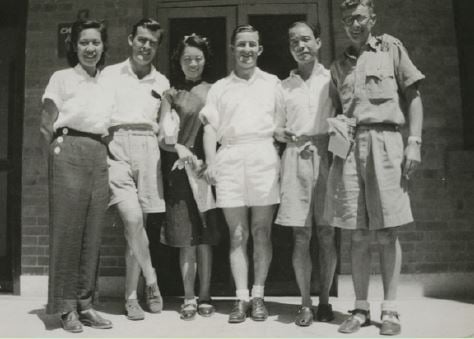 Mabel Lee (Translator), Michael Keon (Press Attaché), Catherine Ma (Typist), Max Loveday (Third Secretary), Charles Lee (Second Secretary) and Barry Hall (Third Secretary). Credit: E.B.Hall
Life in wartime Chungking (the old rendering of Chongqing) was tough. There was heavy bombing and frequent interruptions to supply of food, water and other necessities. The Legation building had no sanitation or running water and the electricity supply was erratic, which meant that work after dark was done by candlelight. Legation staff were often sick. With China's coastal ports under Japanese control, staff could only get in and out of China from the west, through India and Burma. After Burma was occupied by the Japanese in 1942, Legation staff had to fly the dangerous route over 'The Hump' (ie, the Himalayas) between northern India and Kunming.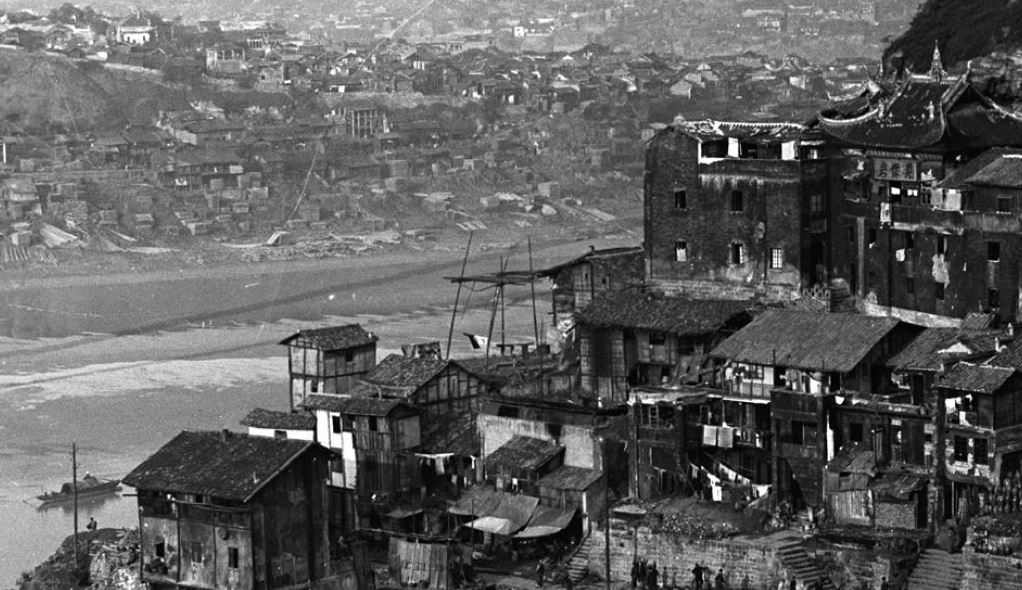 Chongqing's Jialing River, 1941. Credit: American Geographical Society Library
Archived records tell a story of capable and diligent Legation staff who had a good reputation among the local authorities and other legations. Aside from Frederic Eggleston, Keith Officer and Douglas Copland, each of whom headed the Legation over the five years in Chongqing, two remarkable junior officers also stood out as pioneers in their field.
Charles Lee arrived in Chungking as a 28 year old after only spending five months in the then Department of External Affairs. As the first Chinese Australian diplomat, he represented the emerging face of multicultural Australia at the time but also puzzled many people who couldn't reconcile his Chinese ethnicity with his Australian nationality. Lee struggled to find his feet in his first year but soon became an indispensable team member with his strong contacts in the then Chinese government and also other political actors.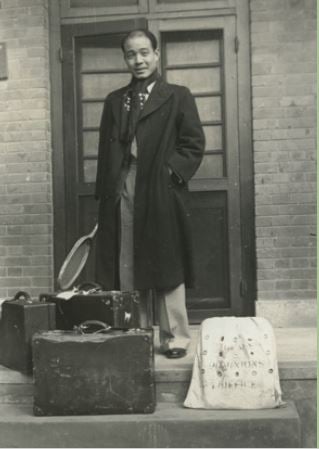 Charles Lee heads for Hong Kong with the Legation's diplomatic bag (lower right). Credit: E.B. Hall
Maris King was only 20 when she arrived alone in Chungking to be the secretary to Eggleston. Despite being told that her role in Chungking was "no job for a woman" because of difficult conditions there, she excelled in her work. She was widely known for intellectual curiosity, her sense of adventure and lust for life, notwithstanding having a disability and not speaking any Chinese. Her long and successful career with the Department of External Affairs culminated with a posting as the Australian High Commissioner to Tonga.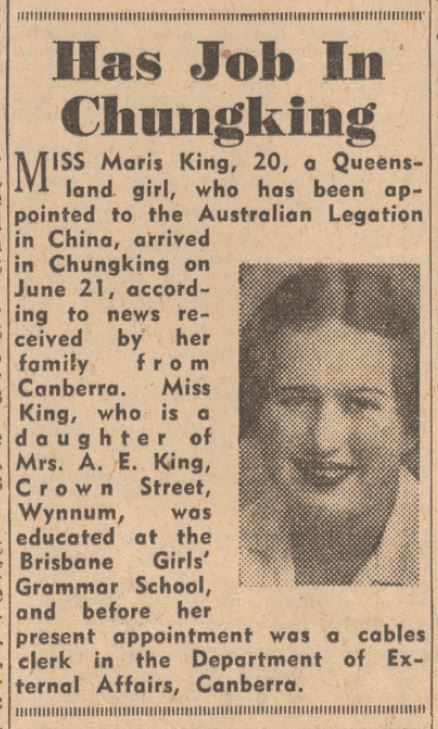 Maris departs. Credit: Courier Mail, 22 July 1943
So if you're visiting Chongqing, make sure to visit Eling Park and the parks administration building. The old Australian Legation building continues to stand as a proud symbol of Australia's longstanding relationship with southwest China.
The Australian Consulate-General in Chengdu, with the assistance of the Chinese Museum in Melbourne, commissioned an illustrated history of our mission, The Chungking Legation: Australia's diplomatic mission in wartime China.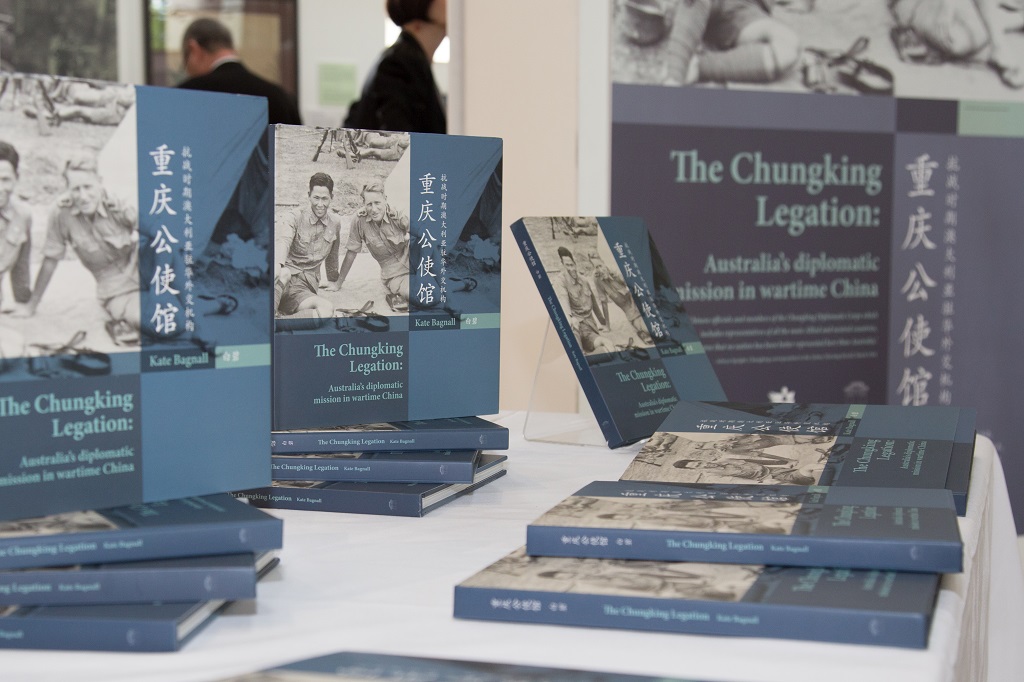 Click here to return to Australian Consul-General's Blog on Southwest China