Chongqing: Strong Educational Links with Australia
15 December 2017
Following on from my previous post about Chongqing, I'll now focus on education opportunities there for Australian institutions. Collaboration in this area has benefits in bringing our peoples closer, thus building understanding.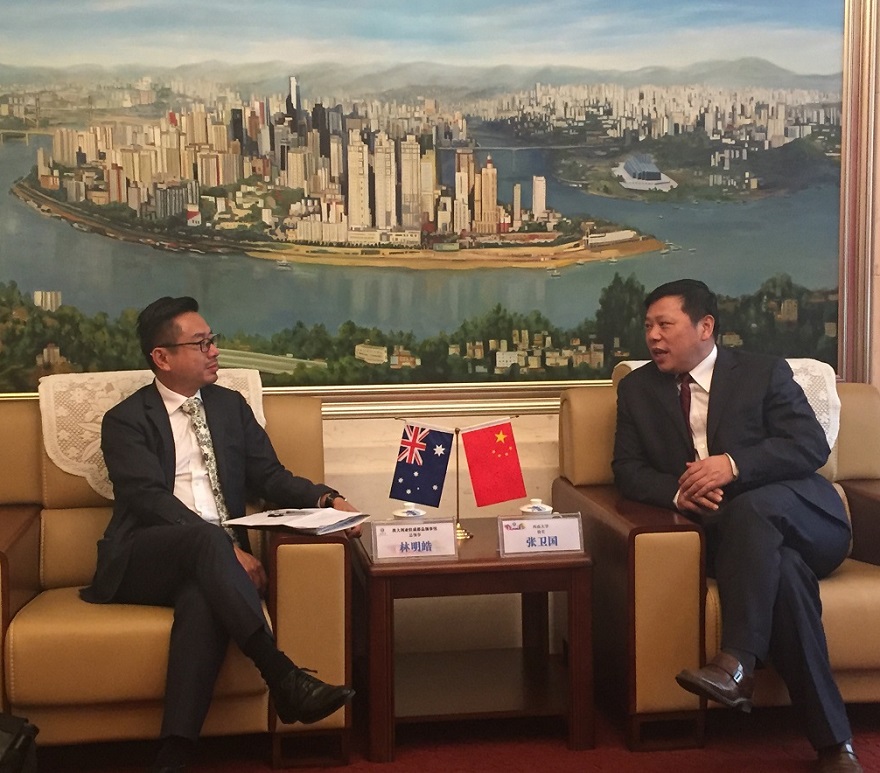 Consul-General Christopher Lim meeting Southwest University President Professor Zhang Weiguo
The Australia-China Chongqing Vocational Education and Training Project (ACCVETP)
Many Australians would be surprised to hear about the longstanding cooperation Australia has had with Chongqing in vocational education and training. The Australian and Chinese Governments ran the joint Australia-China Chongqing Vocational Education and Training (VET) project from 2002 to 2007, funded largely by the Australian Government.
It was a truly remarkable achievement, taking place during a time when vocational education in Chongqing was in the midst of reform, and needed to expand and target the mounting demands of the city's rapidly growing industries. Australia's world class VET system was selected as the model on which Chongqing's – and more widely China's – VET reform could draw from.
Over 40 Australian advisers provided substantive input throughout the life of the project, which focused on five sectors - ie, automotive, business services, electronics, hospitality and tourism, and construction industry sectors.
It has created a lasting legacy for bilateral VET cooperation, with sustained college partnerships and the establishment of the Training and Research Centre for Occupational Health in subsequent years. The ACCVETP provided a model that has contributed to China's training system more broadly.
This year marks the 10th anniversary of the project. Ten years on, schools and colleges across China continue to replicate the vocational teaching methods that it introduced, and strategic partnerships between Australia and Chinese vocational colleges have grown to the point where China is Australia's most important partner for offshore vocational education. Chongqing's strong economic performance in these sectors today is due in no small part to Australia's substantive contribution through this project.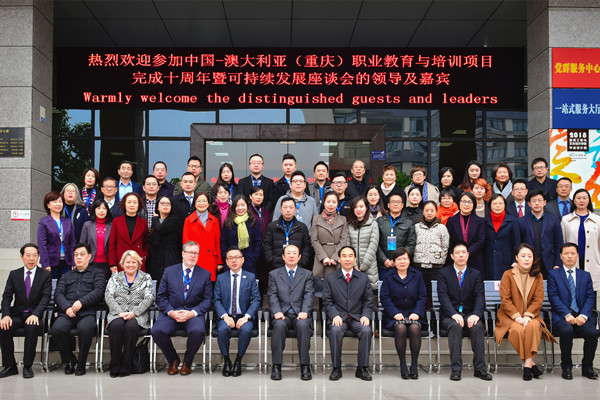 Attendees of the Australia-China Chongqing Vocational Education and Training Project 10-year review seminar in December 2017
Enduring cooperation
Cooperation in VET continues in many forms. During Chinese Premier Li Keqiang's visit to Australia in March this year, he and Prime Minister Malcolm Turnbull witnessed the signing of a Memorandum of Understanding on Vocational Education and Training, which strengthens skills collaboration and promotes greater information sharing in targeted industry areas.
Subsequently, Chongqing signed an MOU with the Queensland Government, TAFE Queensland and the Australian Council for Private Education and Trade (ACPET) to run cooperative programs in leadership, student and faculty mobility, as well as joint education and research.
To date, 14 Australian universities have established 22 active agreements with six education institutes in Chongqing, including the one-of-a-kind Westa College, a three-party joint venture among Chongqing's Southwest University, the University of Western Australia and the University of Tasmania. Launched by Australian Ambassador Jan Adams in 2016, Westa College now boasts 520 students.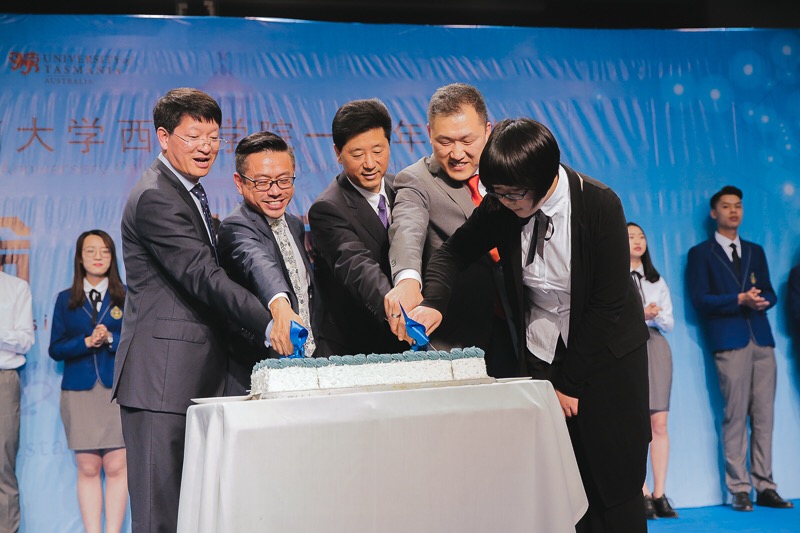 Consul-General Christopher Lim attending Westa College's first year anniversary celebration
The Australian Consulate-General has reached out to many segments of the education sector in Chongqing. For example, we maintain regular dialogue with the Chongqing Party School, which teaches public sector management, among other subjects, to Chongqing government officials. This engagement helps to strengthen understanding and cooperation between our two sides in government administration. I was delighted to give a talk to a cohort at the Party School in November, outlining Australia's foreign and trade policy, as well as our successful multicultural society. There has also been exchanges between the Party School and the Australia New Zealand School of Government (ANZSOG), with regular visits by senior public servants from both sides who take time out of their work to undertake executive education with an international dimension. Under a separate program, ANZSOG brought a senior group of senior public servants from the Australian Government, State and Territory governments and New Zealand conducted a study tour in Chongqing in October.
Late last year, the Consulate-General organised its third Panda-Koala Cup English Competition in Chongqing. Over 1000 high school students participated, with three winners traveling to Deakin University for a study tour.
Chongqing has one of the 27 schools across China where students can attain a Victorian Certificate of Education (VCE) provided as a result of a partnership between Victorian and Chinese schools. Such partnerships are likely to rise, increasing the numbers of Chinese students undertaking the VCE.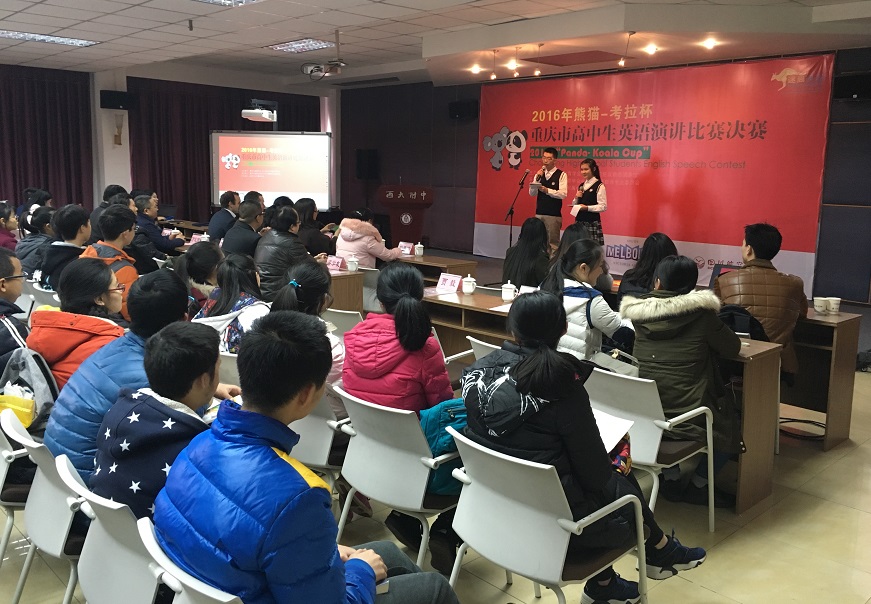 Students participating in the "Panda-Koala Cup" English Competition
In the years to come, Chongqing is likely to produce even more opportunities for Australia in educational cooperation, with the continued strong growth of its economy, increasing emphasis on sustainability and quality of life, and impressive improvements to transport connectivity.
Australian universities in our capital cities will continue to be highly sought after among young people in Chongqing. Yet there's plenty of room for them in regional universities and TAFE colleges, which also offer high quality education and training. With demographic, social and economic changes underway in Chongqing, expertise in aged care, tourism, liveability, urban design, environmental management, executive education, agriculture and animal husbandry are just some of the areas where this mega city needs expertise. Australia is well placed to provide this.