Reflections on home: a trip back to Australia
30 August 2018
What is it like coming back to Australia after a period living in southwest China? Recently, I embarked on what is referred to as mid-term consultations. As the term suggests, halfway through the term of an ambassador or consul-general, we return home to meet stakeholders across Australia to discuss ways to further Australian interests in the countries or regions where we're based. It is a good opportunity to hear an update on Australian priorities before returning to recalibrate our work.

Explaining opportunities in Chengdu at an Asialink Business forum in Sydney
So in July, I had the pleasure of reconnecting with Australia after living in Chengdu for a year and a half. I visited six capital cities – Perth, Adelaide, Brisbane, Melbourne, Sydney and Canberra – to conduct over 90 engagements with the Commonwealth and state governments, city councils, businesses, education institutions, arts organisations, among others. Overall, I met over 500 people.
As I traveled, the prosperity of Australia's economy was immediately evident. In every city, new projects were being planned, developed or completed. The dynamism of our society left another deep impression. Underneath our low key and relaxed attitude to life is an unmistakeable optimism about the future. It was wonderful to be immersed in Australia's multiculturalism.
In Perth, I heard about the exciting new WA Museum project being constructed with the assistance of Sichuan's Tianqi Lithium, a major investor in WA. In Adelaide, I was particularly impressed by the transformation of the old Mitsubishi factory at Tonsley into a state of the art innovation and smart technology precinct. I met up with Australia's only pandas Wang Wang and Funi, at Adelaide Zoo! I learnt that QUT in Brisbane is the first university in Australia to have an eSports program and an impressive high tech gaming arena, aimed at creating industry opportunities in the lucrative world of eSports.

Meet Wang Wang (or Funi?)
Construction sites abound in Melbourne, Sydney and Canberra, making these cities look like Asian boom towns. Light rail infrastructure is being installed in the latter two, which will transform public transport in these cities. Melbourne and Sydney's vibrant start-up projects are particularly exciting as they help innovators realise and commercialise their ideas.
There was a great deal of interest in southwest China throughout my visit. I was privileged to discuss potential economic and people-to-people links with senior leaders, including the Governor of South Australia, ministers from three States, and two city mayors. The Australia-China Business Council in every State I visited hosted me for talks with their members. I spoke about southwest China being the fastest growing region in China which provides Australian businesses with opportunities ranging from exporting premium beef to promoting vocational education to collaboration on medical technology. I invited those interested to come to southwest China and work with the Consulate-General, including Austrade, to explore opportunities and experience the rapid development that characterises the region.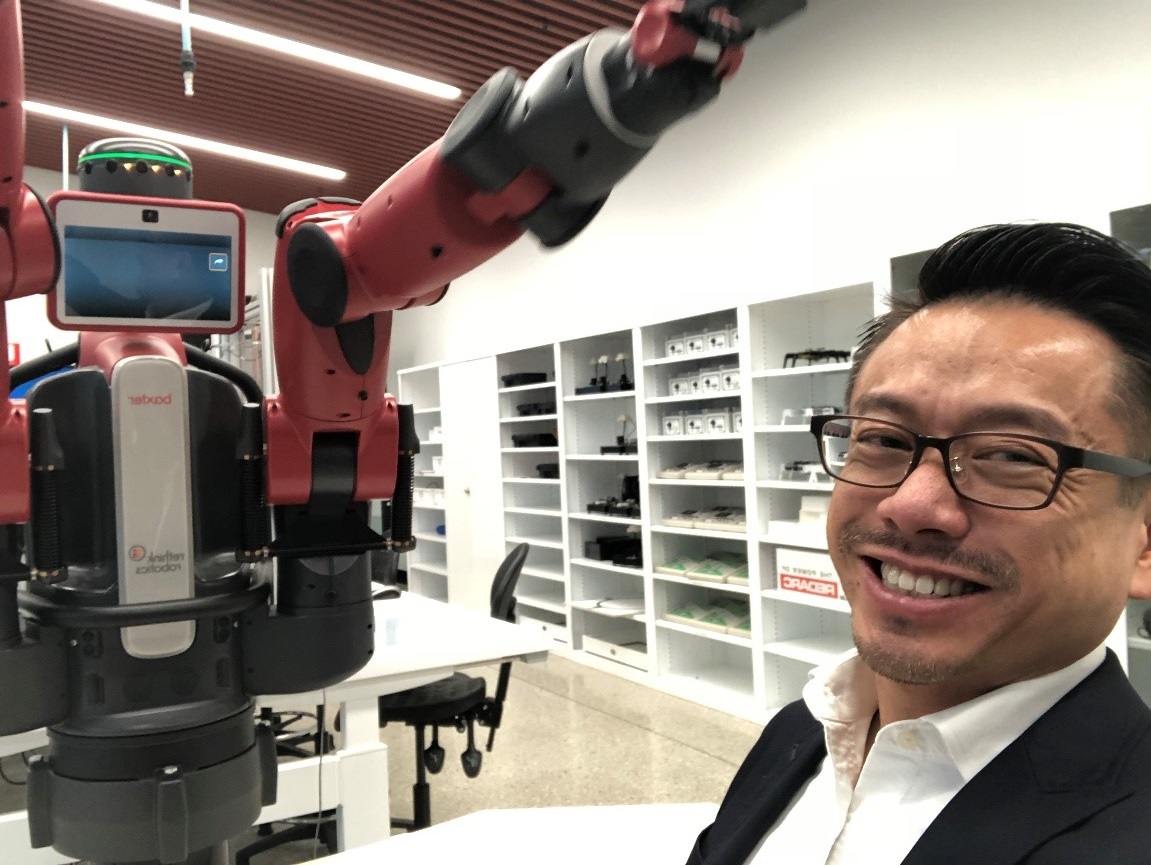 Cutting-edge robotics on display at Tonsley Innovation District
Those businesses that have substantive interests in Chengdu such as ANZ Bank, Cochlear and Goodman already know about the region's advantages. Some are expanding their operations here. Businesspeople that are less familiar with southwest China were curious and interested to learn more. Victoria and Queensland also have active trade and investment offices in Chengdu. We also discussed the risks and challenges of doing business in southwest China, as well as ways to mitigate them.
Interest in southwest China – and China more generally – wasn't limited to business. There was a lot of goodwill towards China and a desire to learn more about the opportunities. Schools, universities and research institutions were keen to find partners or deepen their existing relationships. I was delighted to meet with representatives from the Port Adelaide Football Club, who plan to start a footy clinic with school kids in Sichuan. The Asia Pacific Screen Awards, based in Brisbane, is also exploring partnerships in southwest China. I was pleased to meet several active Australians of Chinese heritage seeking to contribute to people-to-people links with southwest China. I was especially excited that experts from ANU's College of Asia Pacific Studies have started exchanging views about Southeast Asia with academics from Yunnan province.

There is strong interest from the Victorian business community to further strengthen business ties with sister-state/province, Sichuan
Given our interest in promoting Australian health services and medical technology in Chengdu, I reached out to a number of institutions and peak bodies, such as CSIRO, AusBiotech, MTP Connect, the Walter and Eliza Hall Institute, and the South Australia Health and Medical Research Institute. I even met Australian Nobel Prize laureate Barry Marshall at UWA, who helped set up the Huaxi-Marshall Research Centre for Infectious Disease at Huaxi Hospital in Chengdu. Throughout these meetings, I was struck by how advanced our capabilities are in health research – in many fields, we are a world leader. I was pleased that many of those I met were genuinely looking to expand their collaboration with China.


Nobel Prize winner Barry Marshall (right) works on both sides of the Perth-Chengdu sister-city relationship
In Canberra, I reported to DFAT's senior executive the work of the Consulate-General. I received an update from the Treasury's Foreign Investment Review Board about Australia's foreign investment regime, and how to encourage Chinese investors to access information and advice. I heard from the Department of Home Affairs about the increasing numbers of tourists and students who come to Australia from southwest China.
My mid-term consultations in Australia have given me renewed vigour to strengthen our relations with southwest China. Stimulated by the dynamism of Australia's economy and society, I have come back to Chengdu even better equipped to sell the benefits of doing business with Australia.

Click here to return to Australian Consul-General's Blog on Southwest China