Sichuan's southeast: Leshan, Luzhou, Zigong, Yibin
9 October 2018
Sichuan's southeast is a highly populated, compact area crisscrossed with rivers, including tributaries of the Yangtze. In addition to its rich history and culture, the region also presents business opportunities for Australian companies.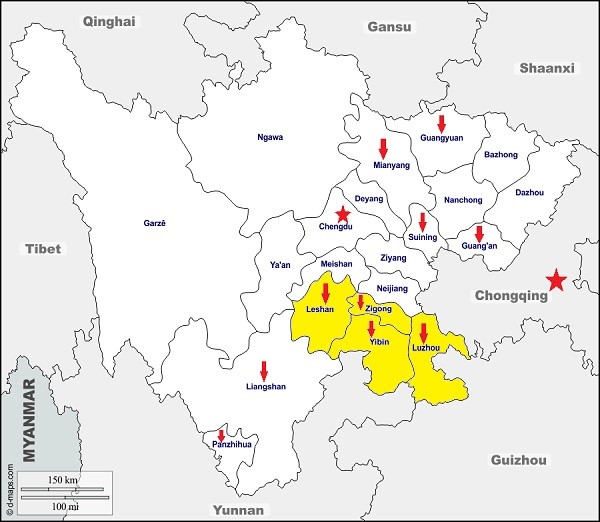 A map of Sichuan. Cities focused on in this post (Leshan, Luzhou, Zigong, Yibin) are highlighted in yellow.
Leshan (population 3 million) is one of Sichuan's most popular tourist destinations, being the location of the Giant Buddha, the world's largest stone carved Buddha and a UNESCO World Heritage Site. Measuring 71 metres, the Giant Buddha smiles serenely at the Min and Dadu Rivers. I was fascinated to hear that the Buddha was enclosed in a wooden structure when it was first built. Mt Emei, also a World Heritage Site, is within Leshan's jurisdiction and one of the four most sacred Buddhist mountains in China. Leshan is accessible from Chengdu by fast train (one hour) or road (two hours).
Our most recent major engagement with Leshan was through the Sichuan International Travel Expo held in September 2017, when Australia was the country of honour. It was an exciting opportunity for us to showcase the abundant tourist attractions and experiences that Australia has to offer. Tourism Australia presented an impressive Australian Pavilion that featured our aquatic and coastal life, Indigenous culture, food and wine, and much more. Fraser Coast in Queensland had pride of place at the Travel Expo as one of Leshan's longstanding sister cities.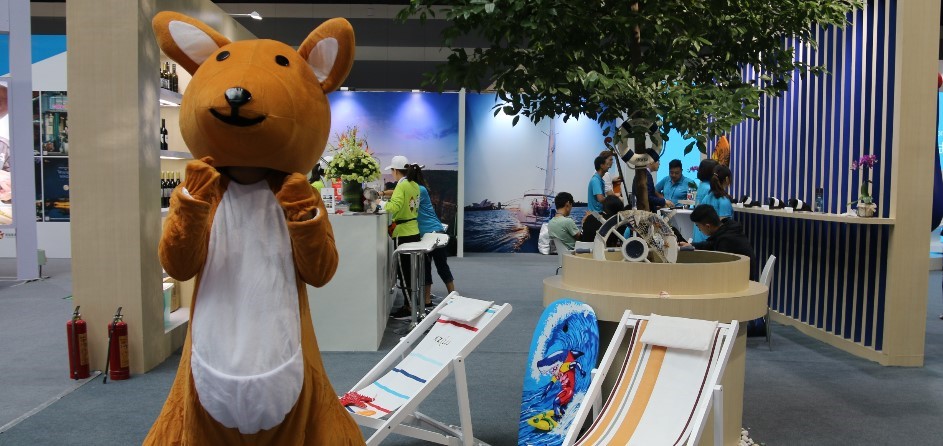 The Australian Pavilion at the 2017 Sichuan International Travel Expo.
Austrade brought a tourism-focused business delegation to the Expo. We also organised an Australian products market near the foot of the Giant Buddha, promoting Australian wines, beer, beef, milk products, health supplements, education and, of course, tourism.
A lasting memory was witnessing Descendance, an Aboriginal and Torres Strait Islander dance group we brought out from Australia, perform a sacred dance in front of the Giant Buddha. For me, it was the meeting of two great cultures – Australia's proud Indigenous tradition, and Asia's profoundly influential Buddhist religion (you can watch the video here).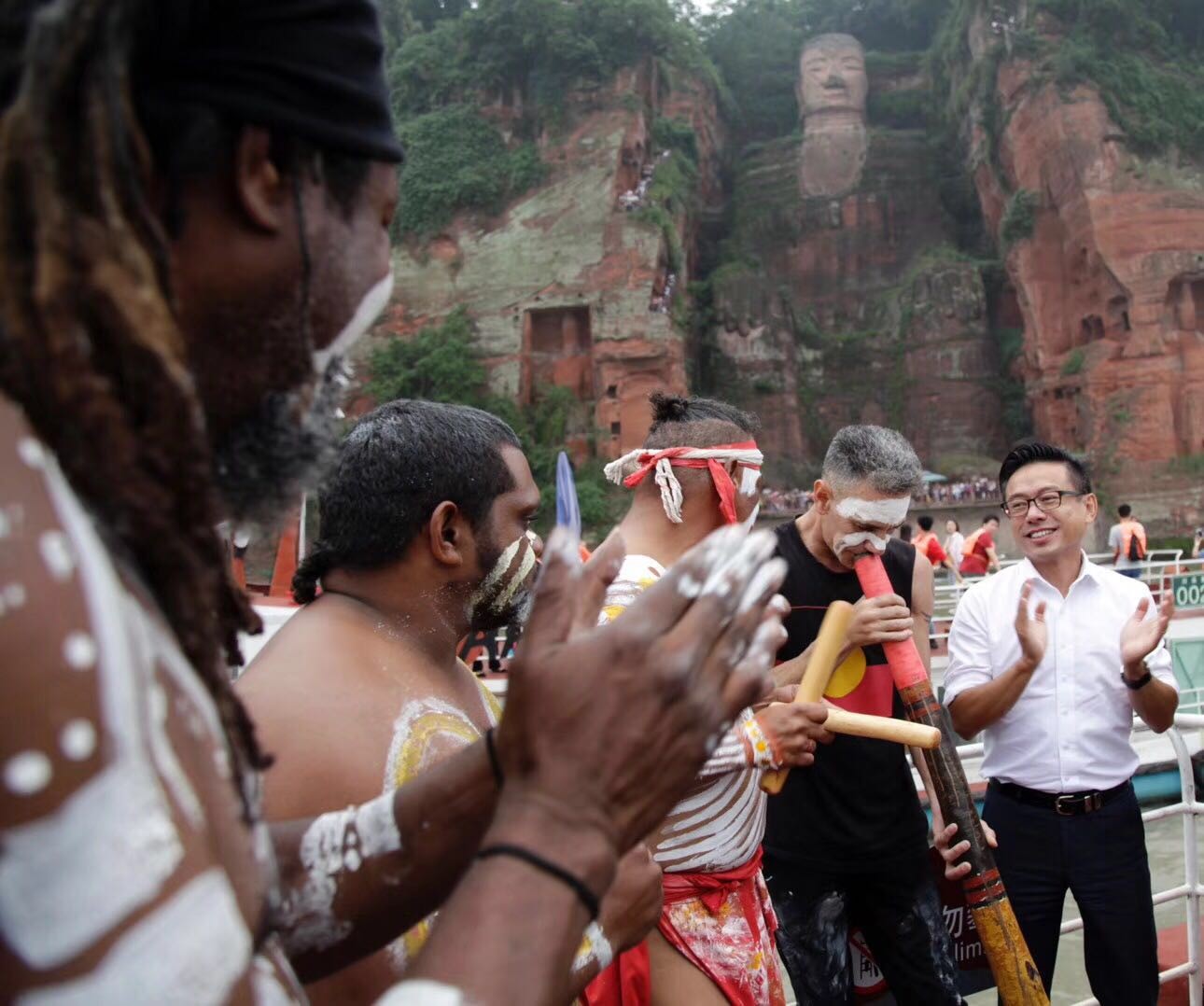 Descendance performed in front of the Leshan Giant Buddha.
Opportunities for Australian business in Leshan include providing high-quality tourism services and education, as well as food and beverage. The Consulate-General, including Austrade, has established good links with the Leshan municipal government through the Travel Expo and subsequent exchanges.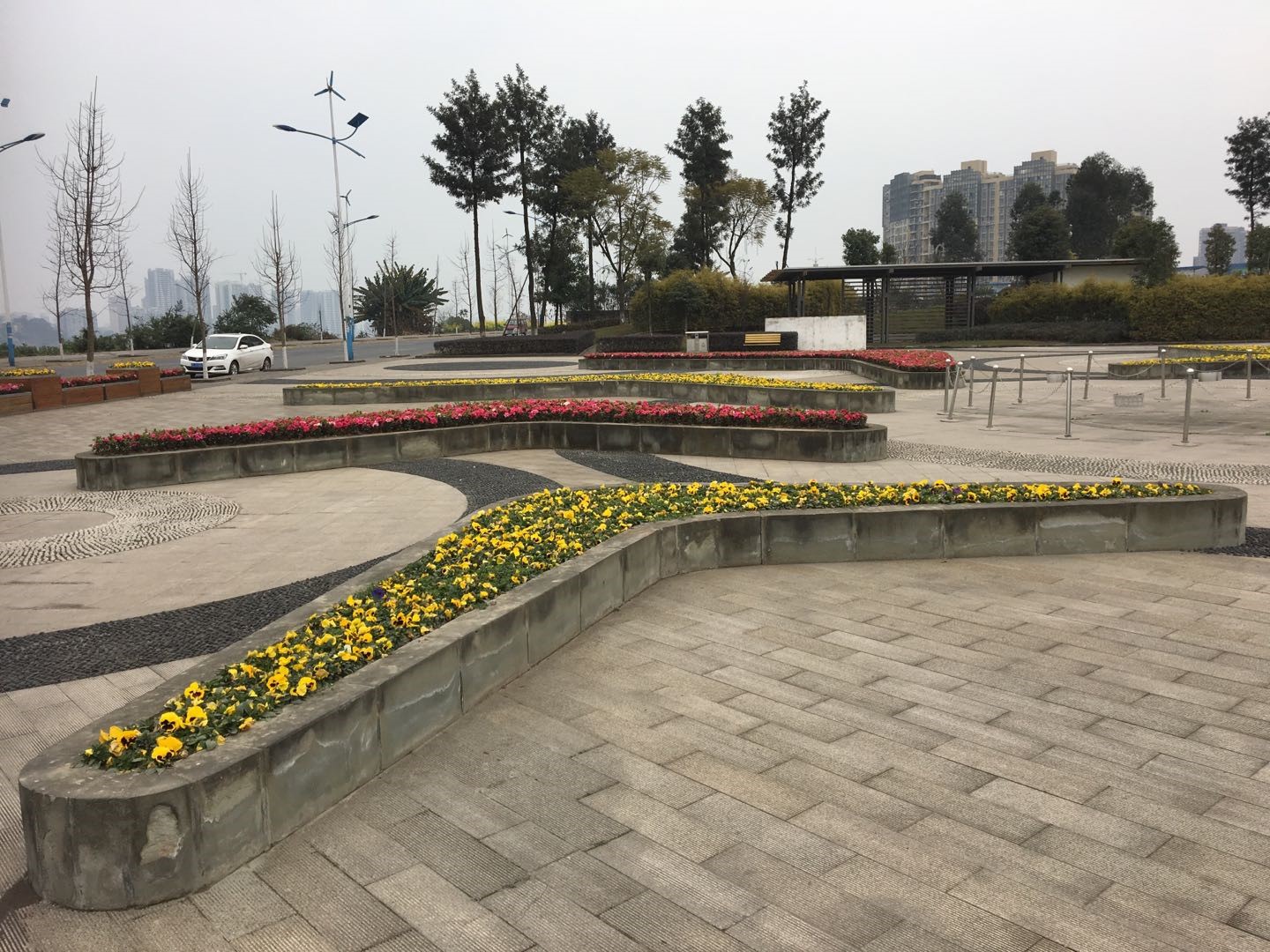 A boomerang shaped flowerbed at Leshan's Australia Park.
Luzhou (population 5 million) is home to Luzhou Laojiao, one of the major brands of Chinese baijiu, a clear liquor made from sorghum. The special link to Australia is that Luzhou Laojiao has invested in Shottesbrooke, a vineyard in South Australia's McLaren Vale. This partnership has made Shottesbrooke one of the most recognisable wine brands in Sichuan.
Baijiu is fermented in mud pits for up to 80 days before the distillation process begins.
Situated on the river bordering Chongqing, Yunnan and Guizhou, Luzhou is a major inland port for the upper reaches of the Yangtze River. As a result, Luzhou is a hub of economic activity in the tri-province border area. Food, liquor, chemicals and construction equipment production are important local industries.
Of the three sub-zones that comprise Sichuan's newly established Free Trade Zone (FTZ), one is the Chuannan Lingang Area in Luzhou, which includes Luzhou Port. The city intends Chuannan Lingang Area to focus on professional services, such as shipping logistics, port trade, education and medical support. The local government believes the Luzhou FTZ sub-zone is well-placed to develop into an integrated transport hub that will provide streamlined connections between the Chengdu-Chongqing city cluster and Yunnan and Guizhou.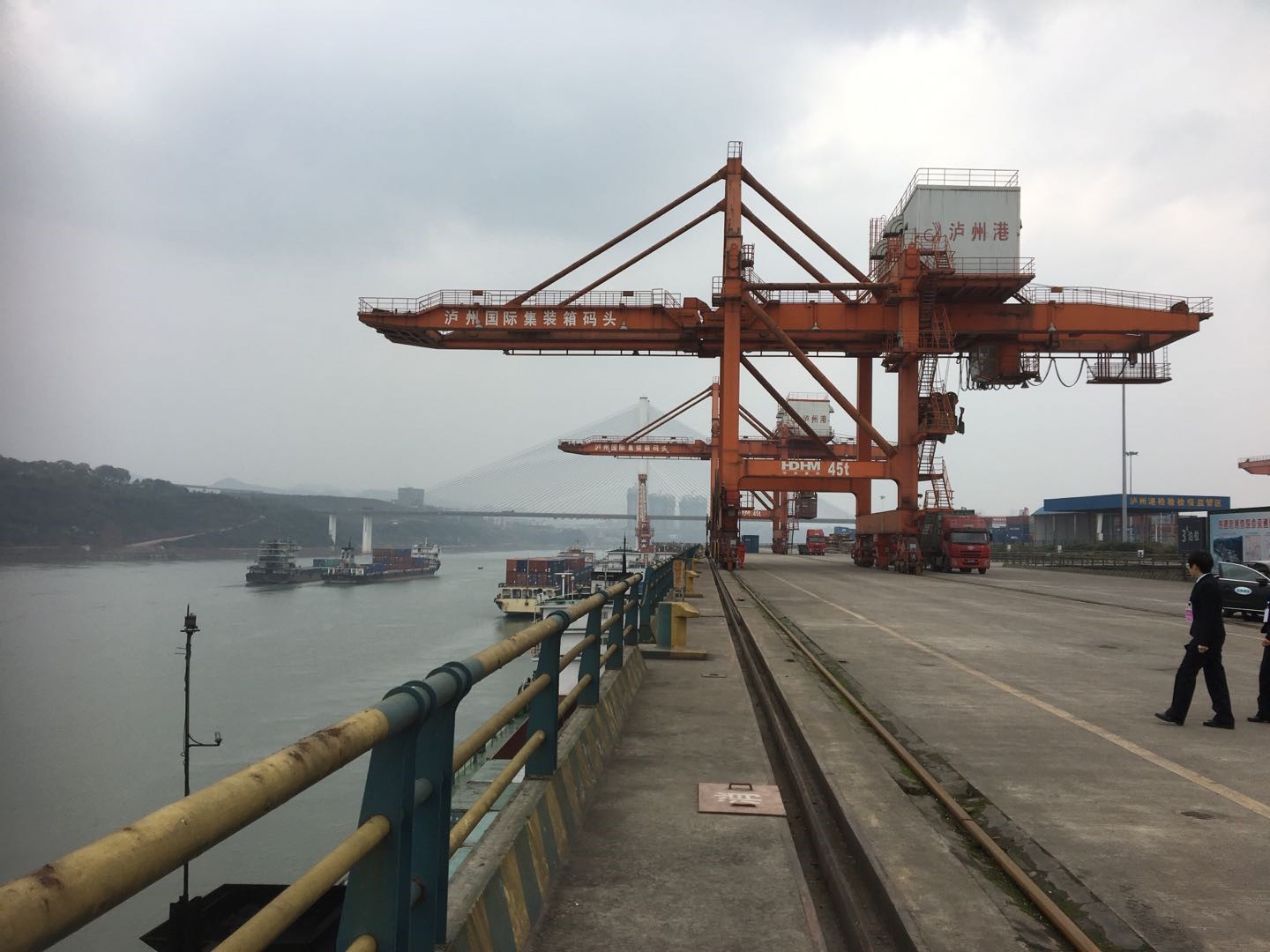 Luzhou's inland port sits in the Chuannan Lingang Area Free Trade Zone.
Luzhou has an annual China Wine and Spirits Expo, held around March. Australia was the country of honour in 2017, which featured a strong South Australian contingent.
Opportunities for Australia are mainly in the wine sector, making use of the annual Wine and Spirits Expo. There are also opportunities in logistics, given the greater regional intermodal transport role that Luzhou aspires to play.
Zigong (population 3 million) is Sichuan's third largest city. It is widely known among Chinese people for having very spicy and salty food, even spicier than Sichuan's already fiery cuisine.
Zigong is also known for its annual lantern festival during the Spring Festival, which attracts large numbers of domestic tourists. While the lanterns in the festival are mostly traditional in nature, Zigong has also established a contemporary light festival, along the same lines as Vivid Sydney or Canberra's Enlighten.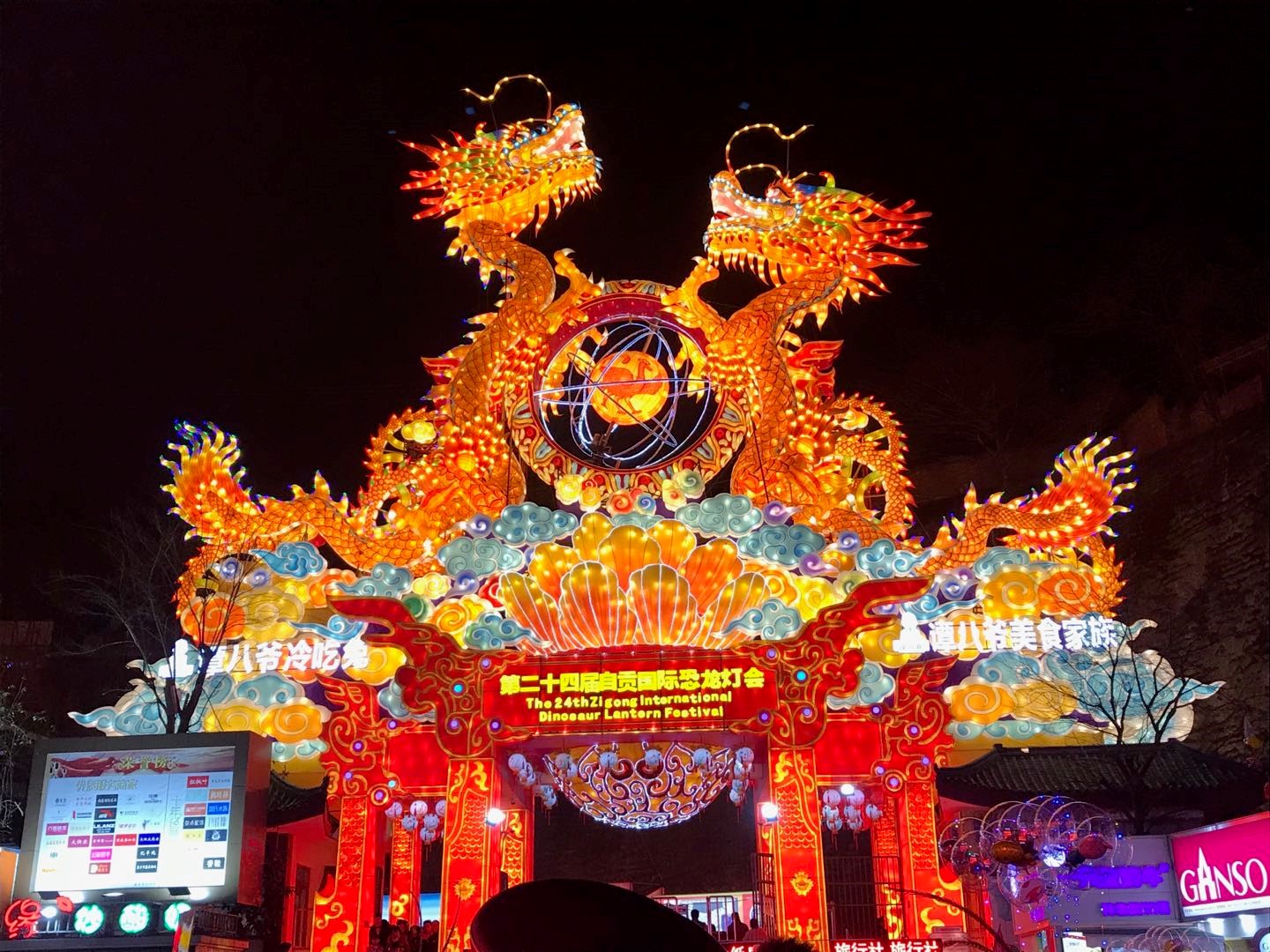 Zigong's lantern festival is known across China.
For foreign tourists, Zigong has two other fascinating attractions – its history of salt production, and its dinosaur fossil collection.
Well into the 20th century, Zigong was an important centre of salt production, which made the city and the region exceedingly wealthy. For thousands of years, the people of Zigong have been drilling for brine, from which salt is extracted. The main traditional method was to erect a drilling rig and drill a borehole using a drilling bit and rope. Brine was brought up to the surface by dropping a long tube down the borehole. A membrane valve captured the brine for retrieval on the surface. Once the brine was retrieved it was piped to flat pans for boiling to extract the salt.
The Salt Museum in Zigong is well worth a visit as it is located in the magnificent former Shaanxi Guild Hall, a centre for salt merchants and traders.
Spot the Szechuansaurus zigongensis at Zigong Dinosaur Museum.
You'll recall that I was particularly captivated by Zigong's incredible dinosaur history (see my previous blog here). Its dinosaur museum is among the best in the world, in part because it sits on a site that is the burial ground for the highest concentration of dinosaur fossils in the world. Particular highlights are the species of dinosaurs named after Sichuan and Zigong, such as the Szechuansaurus zigongensis and the Gigantspinosaurusus sichuanensis.
Education, tourism services, as well as food and beverage provide opportunities for Australian business in Zigong.
Yibin (population 5.4 million) is another major river port, which I have written about previously (see here). Opportunities for Australia lie in Yibin's increasing demand for vocational education and training, and urban design and architecture, in line with the city's fast economic growth.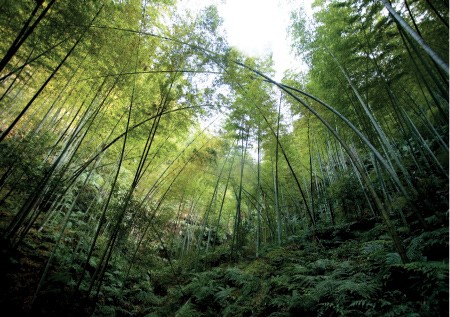 Yibin's Bamboo Sea. Credit: Gochengdu.com
My next blog will be about Sichuan's far southern cities of Xichang and Panzhihua.
Click here to return to Australian Consul-General's Blog on Southwest China