Ganzi – lofty peaks, pure waters and earthy teas
9 July 2019
The last time I visited Ganzi prefecture, we flew into the breathtaking region of Daocheng (link
here
), touching down at the world's highest civilian airport at 4,411 metres. Branded as Shangri-la, this rugged mountain region is a world away and conjures up the imagined paradise of Joseph Rock.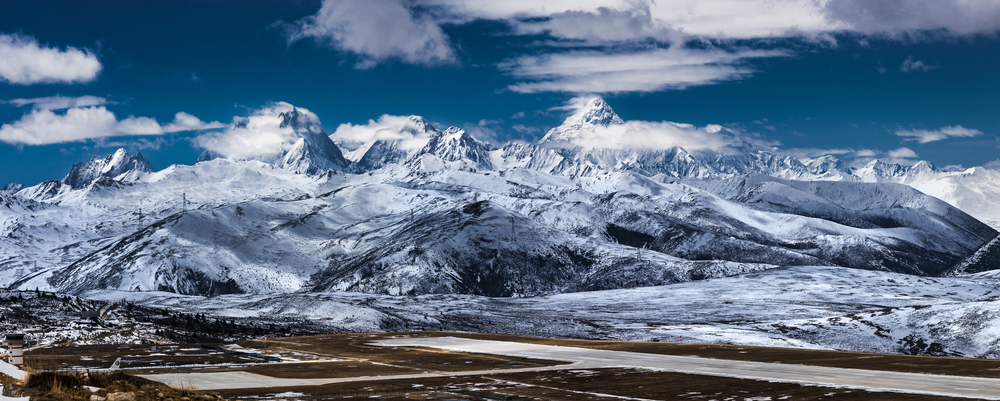 Pilots approaching Daocheng regularly encounter snowstorms. Credit: Shutterstock
On my most recent visit, we drove west of Chengdu to the administrative seat of Kangding, along the new Ya'kang expressway that climbs over 2,000 metres from the Sichuan Basin to the edge of the Qinghai-Tibet Plateau. The drive was as fascinating as the destination. The expressway is 135 kilometres in total but 82 per cent of it – a staggering 110 kilometres - is made up of 85 viaducts and bridges, as well as 29 tunnels. The most impressive engineering feat is the Er'langshan tunnel measuring 13.4 kilometres, the fourth longest in China. This expressway has reduced the driving time between Chengdu and Kangding to just four hours; it was twice as long previously. In the past, it took days to navigate the treacherous mountain passes.
When I emerged from the last tunnel, we enter the area known as Kham (Tibetan: ཁམས་, Chinese: 康 or Kāng), a cultural and historical region that straddles the Tibet Autonomous Region (TAR) and Sichuan, with smaller areas in Qinghai, Gansu and Yunnan provinces.


Kangding at sunrise. Credit: DFAT
Kangding's Tibetan name is Dartsedo (དར་མདོ་གྲོང་ཁྱེར།), which means the confluence of the Dar (Zheduo) and Tse (Yala) rivers. In fact, Kham is also traditionally known by locals as the four rivers and six ranges (Chuzhi Gangdruk). These ranges run parallel to one another and are broken up by deep gorges cut by the four great rivers of Asia – the Salween, Mekong, Yangtze and its tributary the Yalong.
In Kangding, the most striking features are the fast flowing river in the middle of the town and snowcapped mountains above it, the snowmelt of which rushes down east and south each spring.
For centuries, Kangding has been a crucial crossroads of the Tibetan and Chinese-speaking worlds, as well as a major trading centre. Tea from Sichuan and other parts of China was brought to Tibet in exchange for wool, horses, medicinal herbs and highland produce. This network of routes through the perilous mountain passes became known as "Tea Horse Road", of which Kangding is the hub.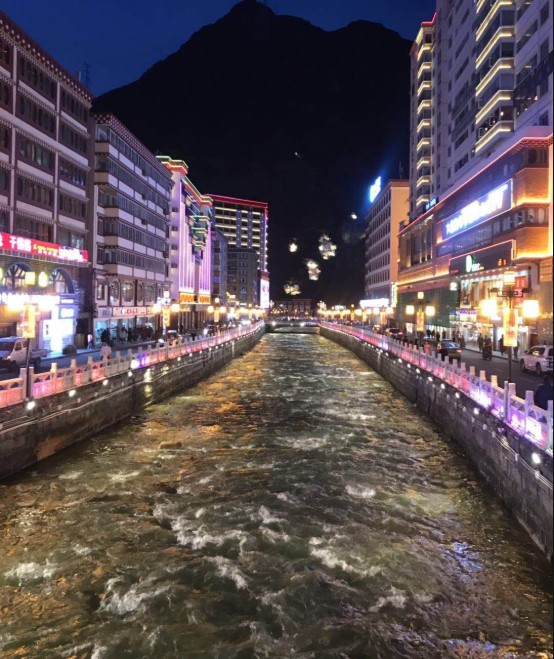 Businesses line the shore of the Dar (Zheduo) River. Credit: DFAT
During the time of the "Tea Horse Road", tea leaves were tightly compressed into cakes, which aged and fermented as they were transported along the long road to Tibet. The bamboo packaging used was semi-permeable, so the rich combination of horse, sweat, rain and dew during the months-long journey gave it an identifiable flavour by the time it reached Lhasa. These tea cakes were carried by armies of Chinese porters who strapped over 125 kilograms of the product on their backs. It was an extraordinary feat performed over centuries just so that the people of the Tibetan highlands could enjoy a cup of tea.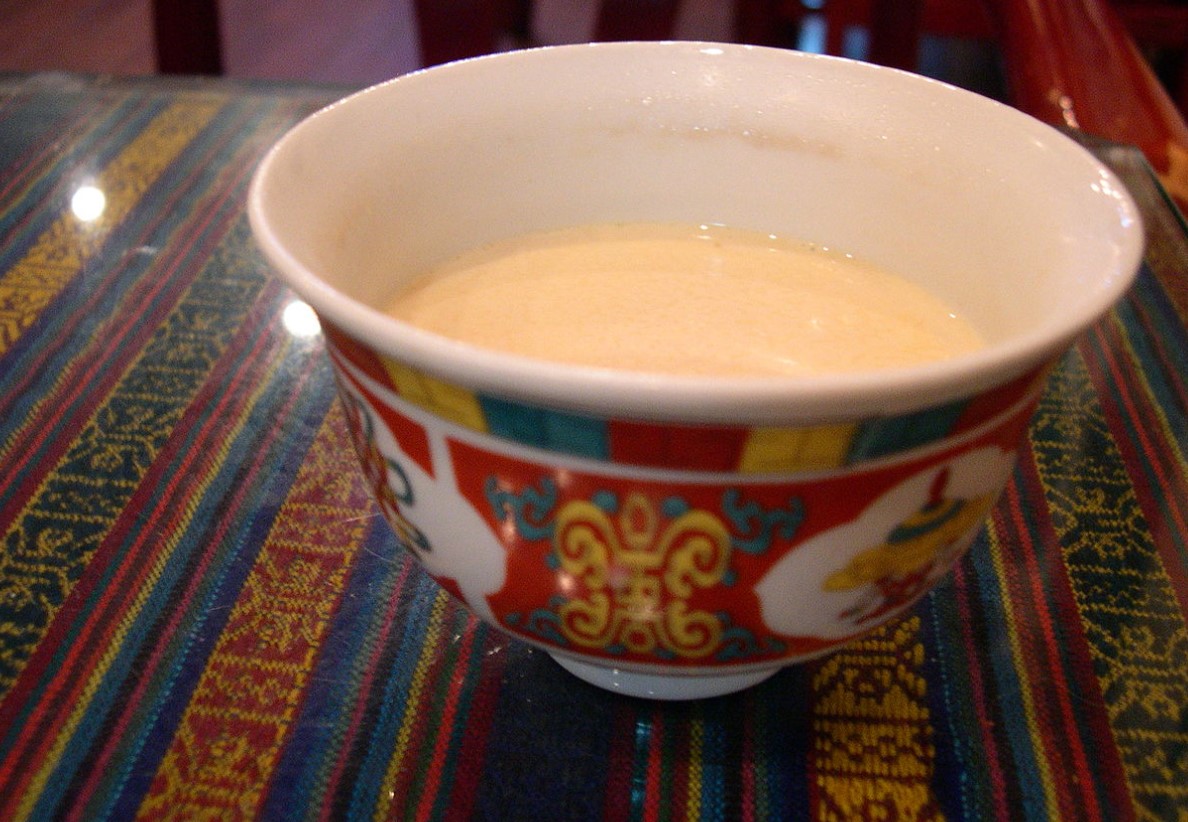 Yak butter tea is often the first thing served to weary travellers. Credit: Wikimedia Commons
I can imagine that in the Kham areas, the pristine water and earthy tea flavour would make a powerful brew.
Tea has been central to the Tibetan diet, as it provides a dietary supplement in an environment that couldn't support large scale fruit or vegetable cultivation. Tibetans have taken Chinese tea and turned it into a very different, full-bodied nutritional drink, adding yak butter and salt. In barley growing areas, they add tsampa, a type of roasted highland barley flour.

The "Tea Horse Road" wound through the mountains of Sichuan, Yunnan and Tibet. Credit: DFAT
People from Kham are called Khampas (Tibetan: ཁམས་པ་, Chinese: 康巴or Kāngbā). As I have mentioned previously, the Khampas are known for being warriors as well as traders who have had centuries of trading links with Han Chinese. The rugged terrain of the region means communities are separated by mountains and valleys which experience different micro-climates. This has led to those communities developing different forms of agriculture and husbandry and ultimately forging different identities. Some Chinese linguists and anthropologists refer to Kham as the "ethnic corridor of southwest China", as its vast and sparsely populated territories are inhabited by over 14 culturally and linguistically distinct ethnic groups. There are, however, significant differences in traditions and beliefs—and even physical appearance—between the peoples of Kham and Lhasa.
For me, Ganzi is an incredible place of discovery, trade and cultural exchange which is less travelled by fellow Australians. Its breathtaking mountain scenery and distinct culture are a world apart from the bustling commercial and industrial metropolis of Chengdu only a few hours' drive away.

Kangding's own Golden Coast sits at 3,780 metres. Credit: DFAT