Coffee's robust rise in China
31 August 2019
Tea is, without doubt, the preferred beverage of the Chinese people. Tea culture, especially in southwest China, is steeped in history and an inextricable part of daily life (see my blogs on the
Chengdu teahouse
and the old
Tea Horse Road
).
But a relatively new phenomenon – coffee – is taking China by storm. Young urban professionals, particularly women, have taken to coffee with gusto. While China still ranks low in coffee consumption on a per-capita basis (at three cups a year versus 300 in Australia and 363 cups in the United States), coffee consumption has risen exponentially. Market research firm Mintel estimates retail coffee sales reached nearly 65 billion yuan (US$9.41 billion) in 2018, while the average annual sales growth in the next five years is estimated at 6 per cent.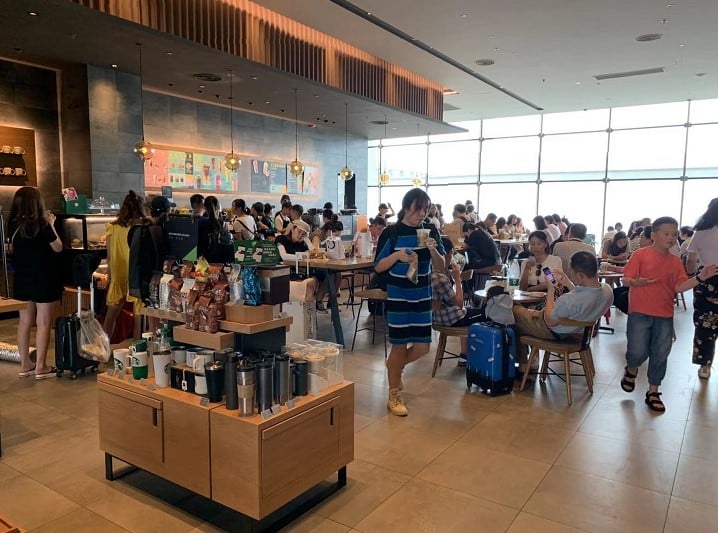 Coffee shops do a brisk trade across China. Credit: DFAT
A culture of hanging out in cafés is springing up across China, from the eastern seaboard and percolating in second and third tier cities where consumption and urbanisation are forging ahead. The coffee shop demographic is young, aspirational and open to experimentation. Millennials have taken to conducting much of their social life, as well as on-screen time, in a comfortable café. While coffee's relatively expensive price point makes it symbolic of social status, I think coffee is considered a modern drink and represents a new lifestyle choice.
Coffee wars brewing

International coffee chains like Starbucks are rapidly expanding their presence in China. The company has more than tripled its stores to 4,000 just in the past four years. Dominating China's coffee market with over 58 percent of the market share, Starbucks plans to have 6,000 outlets in China by 2022, with a store opening every 15 hours. In Sichuan province alone, there are around 150 Starbucks coffee shops.

You don't have to look far to find a new coffee shop opening up. Credit: DFAT

But competition is fierce and gaining steam. Other external players are also expanding their reach in mainland China, such as Costa from the UK, Pacific from Hong Kong, and even Gloria Jeans from Australia. A myriad of homegrown coffee shops have also emerged including Goodwood, Maan, Manner and numerous small individually-owned cafés.

Homebrew for the masses

The most exciting homebrew to take on Starbucks is Luckin Coffee. Barely two years ago, the brand embarked on an ambitious campaign to capture market share. Part of the excitement is the start-up's aggressive strategy that involves listing on Nasdaq, increasing its valuation to almost US$3 billion, thus garnering financial might to expand across China. Luckin currently has 2,370 stores in 28 cities, and wants to increase to 4,500 by the end of the year. If this comes to pass, it would have more stores than Starbucks.
Luckin's model for rapid growth and innovative coffee experience are unlike anything I've seen in Australia. Its affordability compared to Starbucks means Luckin coffee is ideal for first time coffee drinkers. It offers a cacophony of ever-changing reward points, discounts and free vouchers on its mobile app, only accepts electronic payments, and delivers within half an hour, or your coffee is free. All this is very attractive to tech-savvy millennials. A key part of Luckin's strategy is to operate out of "takeaway kitchens" which take orders online and despatch coffee by bands of couriers, significantly reducing operating costs.

Luckin coffee packaged up and ready to go. Credit: DFAT

The jury is still out on Luckin's brazen game plan. Media reports say that despite selling 90 million cups in 2018, every cup was sold at a loss. Once things settle down, my personal view is that there is room for both the Starbucks and Luckin model, given the nascent stage of the huge coffee drinking market in China.
More than just coffee

I'm often struck by the sheer variety of menu options at coffee shops in China. Whereas the normal fare in Australian cafés is coffee, cakes and brunch options, the tendency is for an expanded range to cater for a wider variety of tastes.

Australian favourites are on the menu in Chengdu. Credit: DFAT
Various flavoured coffees are commonplace, whether hot, iced, ice brewed coffee or blended, as are non-coffee options such as teas and juices. Moon cakes are available at Starbucks for instance ahead of the Mid-Autumn Festival. Luckin offers bubble tea along with coffee and fruit teas. Localisation and experimentation make the coffee scene here dynamic and fascinating. Even predominantly tea sellers such as Heytea have coffee products this year.
Southwest's role in coffee

Another unexpected element that relates to coffee in China are the roles played by Chongqing and Yunnan. While Sichuan consumes the most coffee in southwest China, Chongqing has the largest coffee trade hub in China. The Chongqing Coffee Exchange is a major trading platform for both home grown and Southeast Asia sourced coffee. The trade volume of coffee in Chongqing in 2017 reached 9.7 billion yuan (US$1.35 billion). The Exchange wants to be the world's third largest coffee trading centre after London and New York, so as to gain pricing power on the international market. Chongqing is banking on its increasing importance as a logistics hub, and the good quality and output of coffee produced in neighbouring Yunnan province to realise its goal.

Elaborate coffee art is a drawcard for social media users. Credit: DFAT

The province of Yunnan produces 98 percent of all coffee grown in China. It began with French missionaries bringing the first coffee sapling from Vietnam to Yunnan's Binchuan county in 1902, but production leapt when the provincial government cooperated with a United Nations Development Program (UNDP) project in 1988 with Nestlé and the World Bank to expand coffee production. The UNDP project cemented Yunnan's position as China's largest coffee growing province.
Coffee production remains an important component of poverty alleviation efforts in remote areas of Yunnan. Starbucks has also been active in Yunnan, training local farmers on coffee growing and harvesting, and offering single-origin Yunnan coffees in its stores world-wide.
Australians know good coffee

Naturally, as an Australian, I believe that our coffee culture is a gold standard in terms of the quality of product, design and atmosphere of cafés, and that indescribable vibe that we feel when we're in our favourite café. We expect our coffee to be made by trained experienced baristas, not from automatic machines. We have exported this culture to all over the world.


That familiar feeling of home. Credit:DFAT
Australian expertise and coffee culture are widely recognised in China. Travel promotions of Australian cities would regularly feature our coffee and cafés. Then there is a popular chain of cafés in major cities, including in Chengdu, called Wagas, which serves coffee and Australian-bistro fare. Co-owned by Australian Jackie Yun, Wagas and its subsidiary Baker and Spice even offer smash avocados on toast and lamingtons!

A place called Budapest Café in Chengdu was designed by an RMIT student and received international attention when featured in architecture magazines.

Chengdu's Australian-designed Budapest Café. Credit: DFAT
In recognition of the fact that the flat white was created in Australia, one common translation is 澳白, meaning "Australian white". In fact, in the Grey Box café chain, all "Australian-style" coffees command a premium, costing more than the "Northern European" variety because it uses milk imported from Australia! And yes, Grey Box cafés in Chengdu and Chongqing have lamingtons too.

I believe there is strong demand for Australian know-how in making coffee, designing cafés, formulating Aussie-style casual and healthy menus, as well as training baristas, particularly in second and third tier cities in China where consumers now have higher disposable incomes and want to explore new products and experiences. With China's middle class expected to double to 600 million in three years, there is a lot of grounds for optimism.
Contact Austrade
for the latest information about doing business in southwest China.